Boy, 15, stabbed to death in fight at London school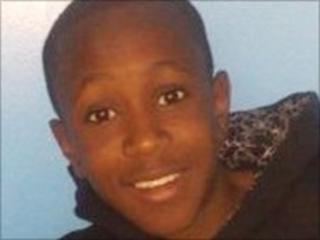 A 15-year-old boy has been stabbed to death near his south London school.
Zac Olumegbon suffered multiple injuries in what police said was a "planned attack" at Park Campus school, West Norwood.
Emergency services were called to the school at 0850 BST on Friday but he was later pronounced dead in hospital.
A second teenager was stabbed in the arm. Five people have been arrested and are being held at a police station in south London.
Det Ch Insp John McFarlane said: "Just after 8.50am the 15-year-old victim, who was a pupil, was together with some other pupils.
"A car pulled up with four young black males in it and a confrontation took place.
"The 15-year-old ran away from the school. They followed and sadly he suffered fatal injuries.
"A 14-year-old was pursued [back to the school] and while trying to get in he was attacked.
"They (the four males) all got back into the car."
He added: "I am now satisfied this was a planned attack."
Head teacher Richard Leonard said: "This is a terrible tragedy and the whole school is in shock.
"We will be providing all the support we can to pupils and their families as the school community tries to come to terms with this awful loss."
A Metropolitan Police spokesman said the second boy was being treated for minor injuries.
Saima Sadfdar, who runs a shop opposite the school, said the victim had been attacked by a gang who were waiting in a car.
She said: "I was told there were three or four people with a big knife.
"Apparently one of the teachers realised something was going on and ran out to help.
"She had her hands open but it was too late and he collapsed in her arms. I knew the boy, he was no trouble."
A Metropolitan Police spokesman said a post-mortem examination will take place in the afternoon.
It was the ninth fatal stabbing in London in 2010.
Deputy mayor of London Kit Malthouse said although the police had seen a reduction in the number of people carrying knives in London, the problem had not gone away.
"When all of us work together and local authorities play their part we will have a long term solution and we will make progress, but it will take a lot longer to turn this around."
He said that parents and shopkeepers had to become more vigilant to ensure teenagers did not get their hands on knives.
Troubled young people
The Ofsted website lists Park Campus as a pupil referral unit for boys and girls aged between 11 and 16.
The specialist school educates some of London's most troubled young people, including those with social, behavioural and emotional difficulties.
It opened two years ago and was hailed as the first school of its kind in Britain. It was purposely built to minimise the risk to young people and staff.
There are about 80 pupils at the school, which is also the headquarters for Lambeth Council's behaviour partnership service.
The service supports young people in the borough so they can return to mainstream education.