Times paywall: Your comments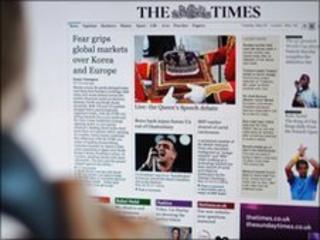 The Times newspaper has begun charging readers to access its online content.
BBC News website readers have been telling us whether they would be happy to pay for an online subscription.
Times now charging online readers
I WILL SUBSCRIBE
I'M NOT PAYING
TWITTER
Many people have been commenting about the paper's decision on Twitter. MartinAtDCM writes:
First day of Times charging online. Makes you realise how much you'll miss it... makes you search for alternatives , and there are loads.
There were some early technical issues for those wanting to sign up. Simon Jary complained:
Trying to subscribe to The Times / @thesundaytimes online - security check won't let me. Paywall Fail!
And there has been a mixed reaction to this rather cheeky article from the Guardian. Caspararemi clearly approves:
The Guardian welcomes former Times Online readers in this hilarious article
But for others the articles misses its mark, with this tweet from nkb striking a chord with many:
I actually read The Guardian online. Patronising dross like this makes me want to stop