Iraq inquiry: Blair was warned about overstretch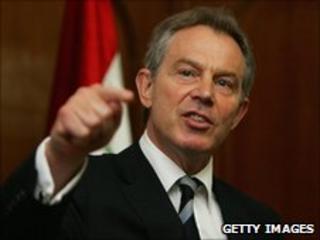 Tony Blair was warned of "long-term damage" to Britain's armed forces if its commitment in Iraq was not scaled back, it has emerged.
On the eve of the 2003 invasion, Mr Blair was told force levels should be cut two-thirds by that autumn.
The warning from then foreign secretary Jack Straw and defence secretary Geoff Hoon is in a previously classified letter released by the Iraq inquiry.
They said keeping troops in Iraq would have an impact on other operations.
The ministers wrote: "It will be necessary to draw down our current commitment to nearer a third by no later than autumn in order to avoid long-term damage to the armed forces.
"Keeping more forces in Iraq would be outside our current defence planning assumptions.
"If ministers wanted us to, we would need decisions now so that we would be able to recommend what would have to give elsewhere.
"Scaling down to nearer a third will limit our contribution thereafter to a maximum of around one brigade, a two-star headquarters and possible (sic) a contribution to higher level command and control, air and maritime components and support enablers.
"Our view is that we should probably agree now to tell the US, for planning purposes, that this is the upper limit of our contribution."
The UK's commitment to the Iraq campaign peaked at 46,000 troops in March and April 2003 and fell to around 18,000 by the end of May, according to Ministry of Defence figures.