Vandals attack Dingle in Shrewsbury's Quarry park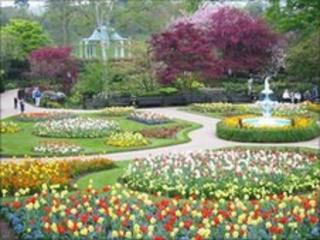 Vandals have caused widespread damage to a park in Shropshire, ripping up hundreds of pounds worth of plants.
Police said the Dingle garden, often described as the "jewel in the crown" of Shrewsbury's Quarry park, had now been vandalised twice in two weeks.
Plants were snapped and pulled up sometime between 1900 BST on Wednesday and 0600 BST on Thursday.
Flower beds were also vandalised overnight on 19 June, Shrewsbury Town Council said.
'Senseless act'
The council said two heliotrope plants had been snapped, three standard fuchsias had been pulled up and up to 20 other plants had been ripped out of the ground and left scattered in the garden.
In the first act of vandalism, begonias and various other plants were ripped up and left lying nearby.
"This is senseless and deliberate damage to a beautiful spot enjoyed by townspeople and visitors alike," West Mercia Police said.
Anyone with information is asked to contact police or call Crimestoppers anonymously.