Nuclear family 'in decline', figures show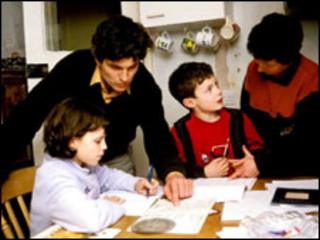 The traditional nuclear family is in decline in Britain as more people chose to live alone or as couples without children, data suggests.
The number of people living in family homes with children fell from 52% in 1961 to 36% in 2009, the ONS says.
In their Social Trends 40 report, official statisticians say 28% of homes are single person households, while 29% contain childless couples.
This is up from 11% and 26% respectively on 1961.
The proportion of people living in lone parent households has also increased over the past half century, jumping from 3% in 1961 to 12% in 2009.
Free nursery places
The Office for National Statistics said the most common type of household was the couple family household, but that there had been a "decline" in the proportion of households containing a "traditional" family unit.
One of the biggest changes in household composition over the past few decades was the increase in the number of one person households, it said.
It rose from 1.7m in 1961 to more than 7m in 2009.
The report also found that the proportion of Britons living in other households, including multi-family households and those with unrelated adults, halved from 12% to 6% over the same period.
The ONS also said women were having babies later.
The proportion of babies born to women under 25 in England and Wales was 47% in 1971. This had dropped to 25% in 2008.
And fewer people are getting married, with 143,000 first marriages in England and Wales happening in 2007, compared with 340,000 in 1971.
The report also found the proportion of three and four-year-olds enrolled in education in the UK rose from just over a fifth (21%) in 1970-1 to just under two-thirds (63%) in 2008-9.
This is largely a reflection of the Labour government policy of offering children of this age free part-time nursery school places.
Participation in this scheme was highest in north-east England at 80% compared with 42% in both south-west and south-east England.
But the number of schools delivering full-time compulsory education is down to 33,396 in 2008-9, from the peak of 38,500 in 1976-7.