Artist Arnold Friberg dies at 96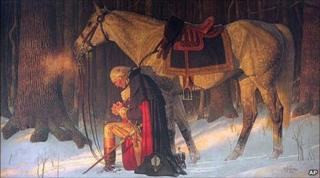 Arnold Friberg, best known for his painting of George Washington praying at Valley Forge during the American Revolutionary War, has died aged 96.
He died at a rehabilitation centre in Salt Lake City after hip replacement surgery, his daughter-in-law said.
The Prayer at Valley Forge, painted for the US bicentennial in 1976, is on display at Washington's former home, the Mount Vernon estate in Virginia.
The picture depicts the first US president during the winter of 1777-78.
Friberg specialised in paintings depicting significant moments in American history.
He also worked with Hollywood director Cecil B DeMille to make paintings which became the basis for the scenes in 1956 epic The Ten Commandments.
His work on the film earned him an Oscar nomination in 1957.
He produced many paintings of horses and, in 1978, was commissioned to create a portrait of Prince Charles with his horse Centennial.
In 1990, he spent six weeks at Buckingham Palace working on a portrait of the Queen also with Centennial.