Israeli PM admits 'mistake' over Turkey talks 'insult'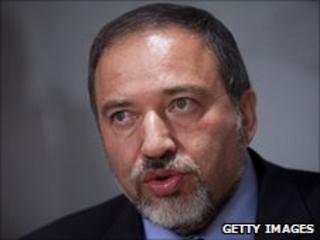 Israeli PM Benjamin Netanyahu says he made a "mistake" by leaving his foreign minister out of secret talks between senior Israeli and Turkish officials.
Avigdor Lieberman said it was an "insult" that the talks took place in Brussels without his prior knowledge.
It was Israel and Turkey's first meeting since a serious diplomatic rift over the killing of Turkish activists on an aid ship bound for Gaza in May.
The two men met and agreed to fully co-operate in future, officials said.
Sidelined
On Wednesday, Israeli Trade Minister Benjamin Ben-Eliezer held secret talks with Turkey's Foreign Minister, Ahmet Davutoglu, in Brussels.
Correspondents say Mr Ben-Eliezer is the most pro-Turkish member of the Israeli cabinet, while Mr Lieberman's hardline approach to Palestinians and Israeli-Arabs has made him unpopular abroad.
Mr Lieberman was not aware of the meeting until it was reported by the Israeli media.
"This is an insult to the norms of accepted behaviour and a heavy blow to the confidence between the foreign minister and the prime minister," he said in a statement on Thursday.
Mr Netanyahu's office later released a statement blaming "technical reasons" for the failure.
No statements were released after Friday's meeting at Mr Netanyahu's residence, but officials said the two agreed that failing to inform Mr Lieberman of the meeting was a "mistake".
Mr Netanyahu also promised better co-ordination with Mr Lieberman in the future, they added.
Ankara curtailed diplomatic relations with Israel in May, after the naval raid in which nine Turks were killed.
The country, which had been Israel's most important Muslim ally, has demanded an apology and compensation for the victims' families.
Israel has so far refused, saying its commandos acted in self-defence after being attacked by a group of passengers on the ship, which was part of a flotilla trying to break its blockade of the Gaza Strip.
Israel has also rejected Ankara's demands for an international inquiry, agreeing only to an internal investigation involving two foreign observers.