Harrier jet crash in Oxfordshire was 'genuine mistake'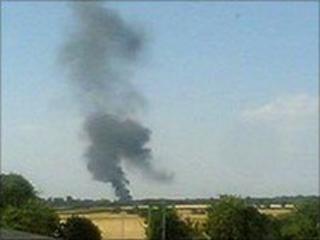 The cause of a Harrier jet crash in Oxfordshire was due to a "genuine mistake", according to papers released by the Royal Air Force.
They show that the pilot had to eject after "a momentary lapse of judgment".
His aircraft hit a car on the A4260 at Tackley, injuring the driver on 13 July 2006.
The aircraft was heavily laden with fuel but the pilot flew as though it was lightweight, with the wrong flap and jet settings, the report said.
'Almighty explosion'
Graham Mitchell, who works nearby and saw what happened, said: "This jet came flying over very, very fast.
"We heard the engine coming back and we were waiting for it to come whizzing over our heads again but it didn't.
"Then there was a bang and the pilot ejected out and the plane hovered there for about three or four seconds and then slid off on its right hand side down over a hedge.
"Next thing there was an almighty explosion and the parachute was coming down in the field behind us."
The young pilot, who had just returned from Afghanistan, planned a training circuit over Kidlington's airport en route to the Royal International Air Tattoo at RAF Fairford in Gloucestershire.
But the report said he misjudged the difficulties of flying a very tight circuit to avoid Blenheim Palace.
The aircraft slowed, the nose dipped too far and control was lost.
Within two seconds the pilot ejected to safety. The report said he was lucky to survive.
The driver of the car, a local police officer returning home from work, escaped with minor injuries.
Airport firefighter Nigel Bristow, one of the first people on the scene, said: "There was a running fuel fire from the aircraft, the main fuselage was across the carriageway so it had blocked the road and brought traffic to a standstill.
"The fuel tanks would have ruptured, all the heat involved created quite a fire that's for sure."
Military scientists managed to recover the final seconds of video from a burnt out cockpit recorder.
All Harrier pilots were required to watch it.
The official cause of the crash was recorded as a failure to keep the angle of attack under control through the final turn.
In the papers, a top-ranking officer warned of "skill fade" after active operations, and that personnel must not lose sight of risks in training.