Lifestyle changes raise water demand, says Welsh Water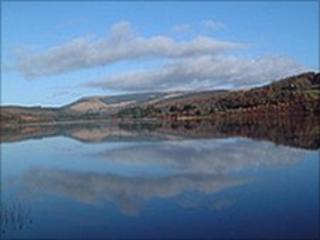 Changes in lifestyles in recent years have been blamed for putting increasing pressure on water supplies.
Welsh Water says the main culprits are garden sprinklers and the huge children's paddling pools that are increasingly common in back gardens.
People are being advised to use water wisely although no restrictions are expected this summer.
Welsh Water operations director Peter Perry said reservoir levels were satisfactory at around 72% capacity.
"Demand is up. We've seen in some areas, in the tourist areas, an 80% increase in demand over the last few weeks," he said.
"I think it's a range of things. Garden watering is a big draw on us. A sprinkler in an hour uses as much water as a family of four for one day.
"The other thing is very large paddling pools that you get in people's gardens.
"There's lifestyle changes that have happened in recent years."
He said no water restrictions were currently anticipated, but customers needed to be sensible.
"I think what we would ask people to do is, with sprinklers, please use them infrequently or not at all if possible," he said.
"With those large paddling pools, the message is if people can use the sterilising equipment available with them rather than filling them too frequently."
Welsh Water, which provides water and sanitation services to 1.2m households, said the past few months had been exceptionally dry with very little rain to replenish reservoirs.
"At the moment all our reservoirs will get through to the autumn without having to impose restrictions," said Mr Perry.
"What could impact on that is if we don't get substantial rainfall over the next few months."
He added: "We're still asking people to use water wisely because the start of the year has been incredibly dry."
Environment Agency Wales said this week it had rescued hundreds of fish from rivers due to exceptionally low water levels.
One rescue involved 500 fish from the Melingriffith dock feeder, Cardiff, where they were struggling to survive.