Solar lamp wins award for helping developing countries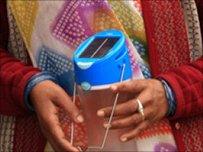 The developers of a solar lamp that aims to replace kerosene-burning lights in developing countries have won a prestigious environmental award.
D Light Design says its lanterns, which sell for $10-45 (£7-30), contribute to the reduction of carbon emissions.
One of the runners-up for the Ashden Award for Sustainable Energy was the Rural Energy Foundation (REF) for promoting solar energy in Africa.
More than 70% of sub-Saharan Africa has no access to electricity.
D Light takes home the £40,000 ($61,000) Gold Award, for "its passion and dedication to the cause of ridding the developing world of the health and pollution problems associated with the use of kerosene lighting", the judges said.
The company, set up by US entrepreneurs, says indoor air pollution by Kerosene fumes kills 1.5m people per year.
One of the entrepreneurs said: "This will do to kerosene what mobile phones did to letters."
"The judges were particularly impressed with their highly effective marketing strategy which has put solar lighting within reach of over a million people in 32 countries with significant potential for further expansion," the Ashden Awards said in a statement.
According to the awards body, in three years REF has helped 300,000 people in nine Africa countries gain access to solar energy.
Related Internet Links
The BBC is not responsible for the content of external sites.