Modern Britain delays parenthood, ONS report shows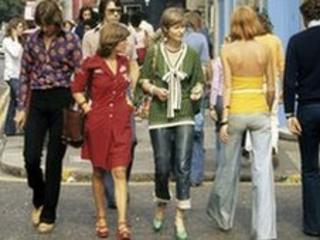 Britons are having babies later, are less likely to marry and are claiming double the welfare benefits compared with the 1970s, a report has revealed.
The annual Office for National Statistics survey compares life trends today with 40 years ago.
The number of babies born to women under 25 in England and Wales fell from 369,000 in 1971 to 180,700 in 2008.
A separate report shows the gap between average life expectancy and that of the poorest people in England is widening.
The National Audit Office report said average life expectancy was now 77.9 years for men and 82 years for women, but in poor areas 75.8 and 80.4 years respectively.
Heavy smokers
In the Office for National Statistics (ONS) report on the state of the nation, the number of first marriages in England and Wales was shown to have fallen from 340,000 in 1970 to 143,000 in 2007.
Over the same period housing, fuel and water had replaced food and non-alcoholic drinks as the biggest household expenditure.
Spending on social security benefits, meanwhile, had risen by 122% in real terms over the past 30 years - from £69bn in 1978-79 to £152bn in 2008-09.
Household sizes have also got smaller, the ONS statistics show.
In 2009 an average of 2.4 people lived in each home, compared with 2.9 people in 1971.
Those living alone, meanwhile, accounted for 18% of all households in 1971, compared with 29% now.
The majority of people believed it was the responsibility of the government to ensure people were financially stable in retirement, the ONS report also suggested.
In 2008, 59% of those Britons asked said the government should make sure those in old age had enough to live on.
Some 31% of pensioners in 2007-08 relied on the state pension and pension credit.
Pensions account for the highest proportion of all government expenditure on benefits.
ONS social trends editor Matthew Hughes said: "We are now living longer, less of us get married and household sizes are smaller.
"More of us have cars, women are having babies later in life and more of our household spending goes on housing, water and fuel."
Elsewhere, the statistics showed a significant rise in life expectancy.
At birth in 1970 males were living to 68.7 years and females 75, compared to 77.8 and 81.9 years respectively in 2008.
Not surprisingly, the numbers of men and women smoking had sharply fallen over the four decades.
In 1974, just over a quarter of men and 13% of women were considered heavy smokers, compared to just 7% and 5% respectively in 2008.
We are also far more mobile, taking 45.5 million holidays abroad in 2008 compared to 6.7 million in 1971.
Households without regular use of a car fell from almost half in 1970 to 22% in 2008.