'Agents' behind SA shooting of Rwandan Nyamwasa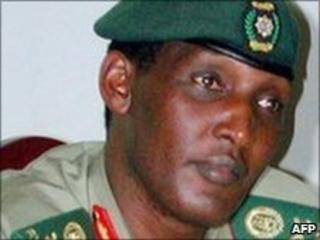 Foreign "security operatives" were involved in the shooting of a Rwandan military officer in Johannesburg, South Africa's foreign ministry has said.
Lt Gen Faustin Kayumba Nyamwasa was wounded outside his house last month.
He had fled to South Africa earlier this year after falling out with Rwanda's President Paul Kagame.
Rwanda has denied accusations it tried to assassinate Lt Gen Nyamwasa. Four people have been charged with his attempted murder.
They are reportedly from Tanzania, Somalia and Mozambique.
"It also involves a country with which we have good and strong diplomatic relations," foreign ministry official Ayanda Ntsaluba said, refusing to name the country involved.
His wife, Rosette, said a lone gunman approached the car after the couple returned to their house from a shopping trip on Saturday 19 June.
The gunman told the driver of their car to allow space so he could aim at Lt Gen Nyamwasa, she said.
Rwanda had asked South Africa to extradite both Lt Gen Nyamwasa and Patrick Karegeya, a former colonel in the Rwandan army also living in exile in South Africa.
Lt Gen Nyamwasa is accused of being behind grenade attacks in Rwanda's capital, Kigali, earlier this year in which more than 30 people were injured and one person was killed.
Mr Ntsaluba said the general, who has denied the grenade allegations, was seeking asylum in South Africa.
"This matter involves security operatives and an attack on a person who has gone through the correct legal channels to seek asylum in South Africa," the foreign ministry's director general said, South Africa Press Association reports.
A week ago, Rwandan journalist Jean Leonard Rugambage, who had been investigating the general's case, was shot dead outside his home in Kigali.
The Rwandan authorities say that two men have been arrested for that attack, which they say was a revenge killing, denying reports it was linked to the exiled general.
Defections
Since arriving in South Africa, Lt Gen Nyamwasa has accused Rwanda's leader of corruption - charges Mr Kagame denies.
There have been several recent defections from the military ahead of elections due in August.
Lt Gen Nyamwasa played an important role in the rebel Rwandan Patriotic Front (RPF), led by Mr Kagame, which put a stop to the 1994 genocide and which is now in power.
But France and Spain have issued arrest warrants against Mr Nyamwasa for his alleged role in killings in the lead-up to and during the genocide, along with other senior RPF figures.
Mr Kagame is viewed by many in the West as one of Africa's more dynamic leaders.
However critics have raised concerns about his more authoritarian tendencies and the government has recently been accused of harassing the opposition ahead of the elections.