Graduate's floating museum idea for Lindisfarne Gospels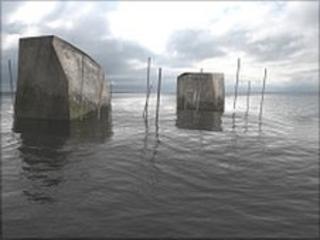 A university graduate has come up with a unique design for a "floating museum" to exhibit the Lindisfarne Gospels.
Matt Drury, who lives in Newcastle, came up with the idea after visiting Northumberland's Holy Island, where the illustrated manuscripts were created.
The 22-year-old architecture graduate of Northumbria University envisaged a network of concrete units which would be accessible by boat.
The gospels, created in 700AD, are currently held at the British Library.
Mr Drury's idea won him the Northern Design Competition award for Architectural Design, after being shortlisted from thousands of entries from universities and colleges across the North of England.
His design entry was based on remote sea retreats that would provide areas for contemplation and access for people to view the manuscripts.
He said: "The remote sea retreats in my design provide a prominent marker in the landscape from land and sea, creating a constant in an area of variable tidal conditions."
The modules would be built from concrete, but would incorporate aggregate from Holy Island so that as they weathered they would take on the appearance of rock.
Kelly Mackinnon, senior lecturer in architecture at Northumbria University, said: "Matt's imaginative design and considerable architectural talents have enabled him to succeed, despite fierce competition."
The gospels were produced by Eadfrith, Bishop of Lindisfarne and are dedicated to St Cuthbert, who rose from humble beginnings to become Bishop of Lindisfarne.
A long-running campaign aims to return the gospels to the North East on a permanent basis.