Singer Patti Smith leads Roskilde anniversary memorial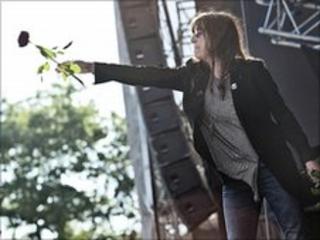 US singer Patti Smith has led a brief ceremony to commemorate the 10th anniversary of a fatal crush at the Roskilde music festival.
Nine people died and 43 were injured during a performance by Pearl Jam at the Danish rock festival in 2000.
An inquiry found "a chain of unfortunate circumstances" caused fans to surge towards the stage.
Smith threw nine roses on the audience after the victims' names were read out at the start of the four-day event.
Nine trees have also been planted near the site in memory of the victims and as a reminder to festival-goers and staff to be careful while they enjoy the music on stage.
About 75,000 people are at this year's event, which is located west of the Danish capital Copenhagen.
Prince and UK band Gorillaz are among the 150 rock, pop and techno groups performing.