Southwark flat fire victims want faster investigation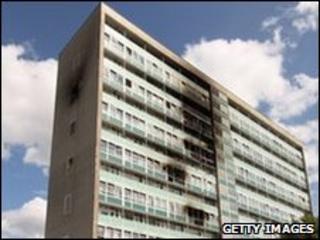 The families of six people who died in a tower block fire nearly a year ago have said the investigation into their deaths needs to progress more quickly.
The victims of the blaze at Lakanal House, in Southwark, south London, included a three-week-old baby and two children.
Solicitor Louise Christian, who represents the families, said the lack of action was "not good enough".
In March, Harriet Harman MP warned that the inquest could take two years.
'Nothing's happened'
About 30 people were rescued after the fire tore through 12-storey Lakanal House on the Sceaux Gardens Estate, Camberwell, on 3 July 2009.
In March, a pre-inquest hearing was held at Southwark Coroner's Court, which introduced the coroner in the case, Mr Justice Thayne Forbes.
However at the time the court heard initial police reports were not ready.
Solicitor Louise Christian said: "The inquest should have been conveyed sooner than this, I have written to the coroner asking for another pre-inquest hearing because nothing's happened.
"It's just not good enough for the authorities to do bureaucratic investigations because people's lives are at stake.
"We need to know what went wrong so it doesn't happen again to other council tenants."
Towers assessed
The fire, which left nearly 100 families homeless, may have been caused by an electrical fault in a TV on the ninth floor of the council-run flats, according to initial tests by the emergency services.
BBC London also discovered that a Southwark Council report suggested that the cladding within the walls may have contributed to the speed at which the fire spread.
Since the incident Southwark Council has announced it will pay independent experts to reassess all its high-rise tower blocks after a report showed at the time of the blaze Lakanal House did not have a valid fire risk assessment.