Vandals destroy two cricket pitches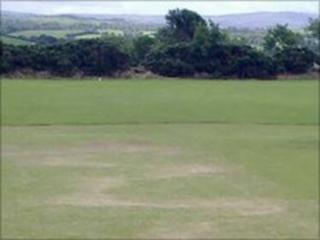 Two pitches have been destroyed by vandals at a cricket club in Londonderry.
The attack happened at the Bond's Glen Cricket Club.
In June, pitches at two other clubs in the county were targeted by vandals. Paint was thrown over playing surfaces and part of the ground was dug up at Brigade Cricket Club in Derry.
At Limavady Cricket Club weedkiller was poured onto the ground destroying the cricket square for the season.
Noel McGinnis, club secretary of Bond's Glen, discovered the damage when he went to do some work at the club on Thursday.
"I noticed brown zig-zag patches, and the closer I got I just though 'oh no, it couldn't be, why us'?
"There is one pitch completely covered, and another one is covered a quarter of the way up.
"They are unplayable at the minute," he said.
Police said they have not yet established whether there is a link between the three attacks, but have asked people who live near sports grounds to watch out for any suspicious activity.