Frank Sidebottom's creator Chris Sievey's funeral held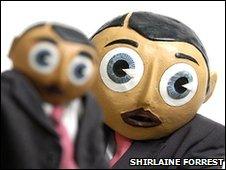 More than 200 people gathered to pay their respects to Chris Sievey - the creator of comedian Frank Sidebottom - at his funeral in Greater Manchester.
Sievey, from Hale, died on 21 June aged 54. He had been suffering from cancer.
He was facing a pauper's funeral after dying virtually penniless, but friends and fans raised £20,000 for the private service at Altrincham Crematorium.
One friend, Guy Lovelady, said: "It was just what he would have wanted, it was wonderful."
Known for his over-sized, papier-mache head, Sievey found fame through a series of TV appearances in the 1980s and remained a popular cult comedy figure.
In true "Frank-style" as Mr Lovelady put it, the service began with "All you need is love" and ended with "God only knows" by the Beach Boys.
Frank's Fantastic Farewell
His former band members from the early-80s group, The Freshies, comedian Charlie Chuck and Damon Gough from Badly Drawn Boy were just some of the faces in the crowd.
Sievey's 18-year-old son, Harry, also gave a "beautiful and moving" eulogy about his father, Mr Lovelady said.
A public celebration of Frank Sidebottom, Frank's Fantastic Farewell, will be held at Castlefield Arena, Manchester, on Thursday from 1900 BST.
Friends have described him as "live in the moment man", who did not worry about saving for a funeral.
They raised the money through a campaign on social networking sites Facebook and Twitter.
Sievey left a daughter, Asher, 31 and two sons, Stirling, 31, and Harry, 18, who still lives with Sievey's ex-wife Paula.
Related Internet Links
The BBC is not responsible for the content of external sites.