Parking fines to increase in Cardiff under new regime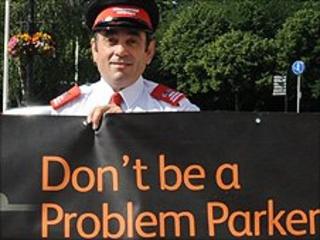 Parking in Cardiff is to undergo a radical overhaul as the local council takes on responsibility for fines.
Traffic wardens have been replaced by civil parking enforcement teams (CEOs) working longer hours than usual, from 7am-10pm seven days a week.
The cost of parking fines will also go up - from £30 to £70 or £50 - in a bid to clampdown on illegal parking in residential areas.
The new teams will be mobile so any trouble spots can be prioritised.
The changes follow a survey answered by 4,500 people, where more than half said illegal parking affected their journeys around Cardiff.
The survey also found 71.8% of respondents believed illegal parking was a problem on the main traffic and bus routes into the city.
Cardiff council took over the enforcement from South Wales Police as part of a wider transport strategy.
It said it hoped to improve access for pedestrians and disabled road-users by enforcing parking restrictions like yellow lines and signs on residential streets.
Police will continue to issue tickets to drivers who park on zigzag markings, cause obstructions and park dangerously.
'More dynamic'
Delme Bowen, the executive member for transport, said: "This is a much more dynamic approach to problem parking, which aims to make Cardiff safer, less congested and easier to use for residents, shoppers and traders.
"What we really want to do is help people as best we can, and the new system we are employing really hands power back to the public."
The new team will consist of 35 on-street civil parking enforcement officers (CEOs) and four off-street CEOs, who will deal with council-run car parks.
It will be headed by four senior CEOs and one team leader.
There will be four response teams, who will be able to act immediately upon reports from the public about illegal parking.
The council hopes to increase the number of CEOs in the future.