Patrol base in Afghanistan renamed after shot soldier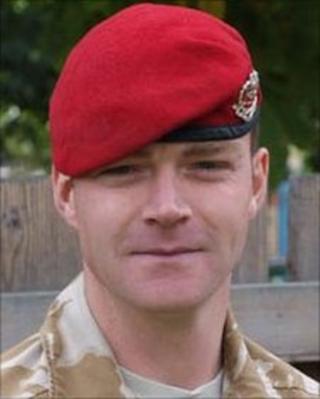 A patrol base in Afghanistan has been renamed after a military policeman from Kent who was shot dead last November.
Sgt Robert Loughran-Dickson, 33, from Deal, died from gunshot wounds received while patrolling with the Afghan National Police in Helmand Province.
His Royal Military Police colleagues have now put up a plaque to commemorate his sacrifice.
The compound where Sgt Loughran-Dickson was working in the Bolan District has been renamed Check Point L-D.
Staff Sergeant Holly Turner, who worked with him when they were both based in Aldershot, Hampshire, with 160 Provost Company, said: "He was embedded with the infantry and he set off from here with members of the Afghan National Police on a patrol on the day that he died.
"He was a great guy. There are many words which could be used to describe him, but none of them would be enough. He was caring, generous, thoughtful, and a great Dad."
'Ultimate sacrifice'
Following his death, the family of Sgt Loughran-Dickson, of 4th Regiment, Royal Military Police, described him as a "true hero".
"He gave the ultimate sacrifice doing what he loved and was devoted to," they said.
Sgt Loughran-Dickson entered the Army in 1997, before joining the Royal Military Police in 2001.
During his policing career, he worked in Kosovo, Iraq, Northern Ireland and Afghanistan.