Newark and Sherwood council could sell Kelham Hall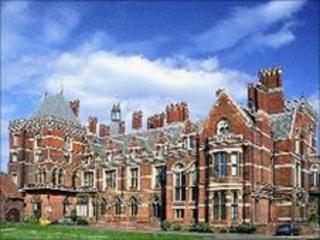 A Nottinghamshire council is considering selling off its historic headquarters to save money.
Newark and Sherwood District Council said it had to make efficiency savings of £7m over the next three years.
A council spokesman said the authority could save about £450,000 each year by moving out of its Grade I listed Kelham Hall base.
The authority bought the hall and converted it into offices in 1974 when local government was reorganised.
Leader of the council, councillor Tony Roberts, said: "We have some really challenging financial pressures ahead and it makes sense to look at ways of re-housing the council in cheaper accommodation.
"It was one of the big issues that people commented on in last year's budget consultation, and we know that many people think that Kelham Hall is an unnecessarily expensive building for the council to occupy.
"We don't need the amount of space we currently have, and the cost of maintenance and repair of a listed building is increasing."
Mr Roberts said the council would look at finding a potential buyer for the hall and the cost of alternative premises, as well as the possibility of letting parts of the building out during the short-term.