Crash leaves car hanging off bridge in Staffordshire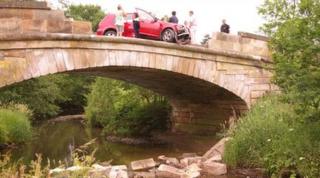 A woman had a lucky escape when her car demolished the parapet of a Grade-II listed bridge and was left hanging over a 20ft drop into a river.
The accident happened at Hulme End, by the Manifold Inn pub, at about 1330 BST on Thursday.
Staffordshire Police said the VW Golf hit one side of the bridge, partly demolishing it.
The driver, aged in her 80s, from Buxton, was taken to hospital suffering from shock.
'Intricate job'
Engineers installed temporary concrete safety barriers and lights to protect people and traffic was reduced to a single lane, Staffordshire County Council said.
It added work will involve reclaiming as many of the stone bricks as possible from the river with a crane.
New stone may also have to be ordered and work could take up to two months to complete.
Cabinet member for highways Mike Maryon said: "Thankfully the motorist was not seriously injured as a result of this accident.
"Unfortunately the bridge has been extensively damaged but our engineers have already set out a programme to ensure it is restored to its former state.
"This will be an intricate job as this is a historic listed bridge. We'd therefore ask people to bear with us and be patient while work is carried out."