Five killed in ambush in southern Thailand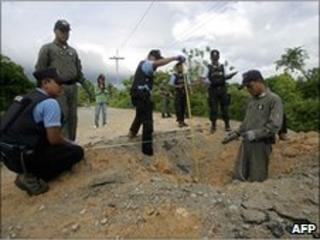 Five soldiers have been killed in a roadside bomb in Thailand's southern province of Narathiwat, the scene of a long-running insurgency.
The paramilitary troops were on a night patrol when their vehicle drove over the explosive device.
Insurgents then opened fire on the men and seized their weapons.
At least 4,000 people have died in the past six years in fighting in the south, which is variously described as a separatist or Muslim insurgency.
The BBC's Vaudine England in Bangkok says the fighting has become a deep-seated struggle against whichever government is in power.
Insurgent groups routinely target government offices and personnel in four provinces - Yala, Pattani, Songklah and Narathiwat.
Parts of these areas once formed a Malay Muslim sultanate which was annexed by largely Buddhist Thailand a century ago.
High cost
The latest attack comes at a difficult time for the Bangkok government.
On Thursday it faced questions in parliament about military budgets, with opposition legislators asking why troops stationed in Bangkok under emergency laws appeared to be paid twice as much in daily allowances as their colleagues in the far more dangerous south.
They also questioned the overall cost of the security operation for Bangkok.
The anti-government protests in April and May sparked the country's worst political crisis since Thaksin Shinawatra was ousted as prime minister in a military coup in September 2006.
Efforts to end the anti-government so-called red-shirt protests in Bangkok culminated in a bloody crackdown in May, in which at least 88 people were killed.
The government is considering whether to renew a three-month-old state of emergency which covers the capital and much of the country, but not the south.
While promoting plans for national reconciliation it has also arrested hundreds of people and closed down most opposition media.