Schwarzenegger cuts wages for California state workers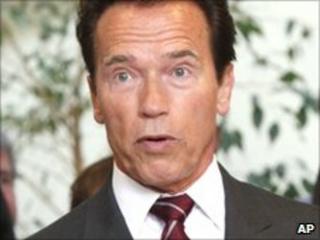 California Governor Arnold Schwarzenegger has ordered some 200,000 state workers to be paid the minimum wage because no budget has been passed.
The order means most state employees will receive the federal minimum wage of $7.25 (£4.82) per hour as of 1 July.
California faces a $19bn deficit as the new fiscal year begins and the state legislature has yet to agree a budget.
A similar wage order was made two years ago but was not obeyed. Once a budget is signed, workers will get back pay.
More than 30,000 state workers whose unions have recently agreed new pay and pensions deals with the state administration have been exempted from the wage cut.
They include California Highway Patrol officers.
State controller John Chiang, who issues the paychecks to state employees, has said he will not follow the order, the Los Angeles Times reports.
He also refused in 2008, when Mr Schwarzenegger last ordered him to cut state employees' wages. The matter is still before the courts.
A spokesman for Mr Schwarzenegger, Aaron McLear, said the Republican governor was sending a message to the controller "to follow the law".
Mr Schwarzenegger has said that California, which has been badly affected by the global economic downturn, has no choice but to face spending cuts.
The Republicans argue that raising taxes would stifle private sector job creation and slow any economic recovery.
California's constitution requires its budget to be approved by a two-thirds majority of lawmakers.
They are often gridlocked and the state's budget problems mount up.