Court hears of suburban 'spycraft for Russia'
By Laura Trevelyan
BBC News, New York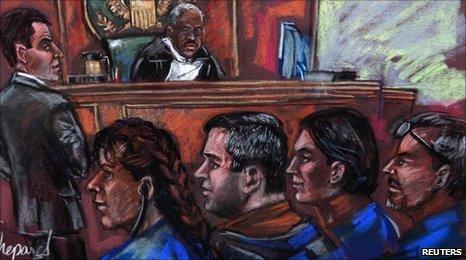 The body language in the Manhattan court, where four of the 10 people accused of being Russian spies applied for bail on Thursday, spoke volumes.
Juan Lazaro, whom US prosecutors said had confessed to living under a false name, slouched against the court bench, arms folded, sitting nowhere near his wife, Vicky Pelaez.
She was the most animated of the four defendants, looking on approvingly when her lawyer told the court the use of hyperbole didn't make the allegations against her true.
When the court heard Mr Lazaro had told US prosecutors that their home in Yonkers had been bought by Russian intelligence, Ms Pelaez's face was inscrutable.
In between the couple known as the "Yonkers Conspirators" sat Richard and Cynthia Murphy, supposedly a suburban couple from New Jersey.
Their lawyers claimed they were devoted parents of their two daughters.
The Murphys were impassive, staring straight ahead in their black court overalls, barely ever shifting their gaze.
They didn't respond when the judge told them he was rejecting their application for bail, because the court didn't know who they were.
It was a spooky moment as the judge, US magistrate Ronald L Ellis, observed that in order to be granted bail the court needed to know who a person was.
The Murphys are accused of using false identities.
The assistant US prosecutor Michael Farbiaz told the judge that Richard Murphy's fake birth certificate was found in a safe deposit box this week.
Also found amongst the Murphys' possessions was a "tradecraft box", containing multiple phones and currencies.
Everyone watching the proceedings sat up and took notice at that point. Tradecraft box?
This was yet more James Bond-style language in a case already dripping with it.
There was more detail too about the mechanics of modern of spycraft.
Steganography, for example. That's the process of encrypting secret data in public internet images - only those with the right code can download messages.
This is how Russian handlers communicated with their American illegals, claim the prosecution, using technology not commercially available.
Cynthia Murphy's lawyer painted a picture of a loving mother, whose only concern was for her two daughters, aged eight and eleven.
She would not flee the country, and destroy her daughter's lives.
The defence lawyers all had a similar theme - the evidence against their clients was hyperbole.
What information had been taken from where, and given to who, asked Vicky Pelaez's lawyer.
What's so secret about taking a package in your own name to Peru, and travelling back, he asked?
What about that made Ms Pelaez an operative for SVR (Russian intelligence)?
Richard Murphy's legal representative said the only circles the stay-at-home dad moved in were kindergarten playdate ones.
If the defence lawyers were trying to be as contemptuous as possible about the allegations against their clients, the prosecution's job was to make it all sound sinister.
Mr Farbiaz said the defendants' appearances were fraudulent, and riddled with deception.
The weight of evidence was strong, he continued, and had got stronger in one week.
"If they walk out of here, they're never gonna come back," declared Mr Farbiaz passionately at one point, as he tried to persuade the judge not to grant bail.
The judge agreed that the case against the Murphys was strong.
But he was more sympathetic to Ms Pelaez, who was granted bail, though with strict conditions.
She looked relieved as the judge said she didn't appear to be a trained agent, and was a US citizen who hadn't used "legends", and had an identity which went beyond the facts of the case.
Richard and Cynthia Murphy continued to sit and stare into the space in front of them.