Clinton starts former Soviet tour in Ukraine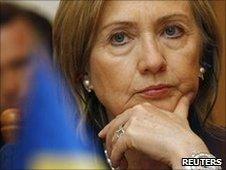 US Secretary of State Hillary Clinton has said that the door to Nato remains open for Ukraine.
Speaking after arriving in the capital, Kiev, she said Ukraine had the right to choose its own alliances.
She will travel to Armenia, Georgia and Azerbaijan on a tour of former Soviet states, as well as visiting Poland.
The trip, announced over a month ago, is intended to reaffirm relations with ex-Soviet states, after a renewal of ties between Washington and Moscow.
Washington is still readjusting to the election of the new President of Ukraine, Viktor Yanukovych, seen as being much more pro-Russian than his predecessor, the BBC's David Stern reports from Kiev.
The Ukrainian parliament has passed a measure asserting the country's non-aligned status, effectively rejecting any ambition to join Nato.
"Ukraine is a sovereign and independent country that has the right to choose its own alliances and Nato's door remains open," Mrs Clinton said after meeting Foreign Minister Kostyantyn Gryshchenko.
"But it's up to Ukraine to decide whether or not you wish to pursue that or any other course for your own security interest."
At a joint news conference with President Yanukovych, Mrs Clinton said the US supported Ukraine's efforts to strengthen its ties with Russia, as long as that did not come at the expense of Kiev's relations with Europe and the US.
Speaking later at Kiev Polytechnic University, Mrs Clinton addressed the challenges Mr Yanukovych will face meeting his commitments to eradicate corruption and preserve media freedoms.
"Rhetoric alone does not change behaviour," she said.
Mrs Clinton also met former Prime Minister Yulia Tymoshenko, whom Mr Yanukovych defeated in a bitterly contested election earlier this year.
In Azerbaijan and Armenia Mrs Clinton will push for a resolution of the region's conflicts, and bolster US access to an overland route used for supplying troops to Afghanistan, our correspondent says.
In Georgia, Mrs Clinton will have to reassure officials that the government of embattled President Mikhail Saakashvili still has US support despite Washington's attempt to improve relations with Russia, he adds.
Related Internet Links
The BBC is not responsible for the content of external sites.