Newspapers analyse Hague's foreign policy speech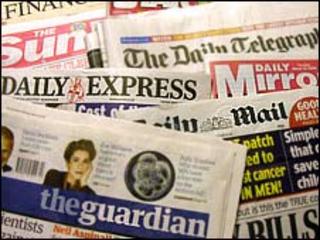 "Friends not lapdogs" - that's the Daily Telegraph's take on a speech by Foreign Secretary William Hague about the UK's place in the world.
"He realises that friendship does not have to equal agreement," it adds.
The Times thinks Mr Hague may ultimately want Britain to "retreat from a central place in the world".
And the Financial Times agrees that he "set the tone for a pragmatic approach" which recognises that, globally, "power is shifting south and east".
Great Scot
"C'mon Andy!" cheers the Daily Mirror. No pressure, but he "may never get a better chance to win Wimbledon and end 74 years of tennis hurt".
"Make Britain great Andy," pleads the Daily Star in a similarly optimistic vein.
The Sun, meanwhile, comes up with 25 reasons why it is not a problem for English sports fans to support Murray, despite him being a Scot.
Among them, number 16: "He wears socks with shorts, a quintessentially English summer fashion statement."
'Much rubbish'
There are mixed views on the decision by Charles Saatchi to hand over his collection of modern art to the nation.
"A welcome addition to our cultural landscape," writes Michael Glover in the Independent, although he admits: "Saatchi has bought much rubbish in his time."
This sentiment is echoed by Adrian Searle in the Guardian.
"Exhibitions at the Saatchi are invariably incoherent - next to the good there is plenty that is bad or mediocre," he thinks.
Rich and poor
The Daily Express is furious at the "swine flu debacle" - the spending of £1.2bn on dealing with the outbreak.
"Whitehall departments must be made to remember they are the custodians of taxpayers' money - and there isn't much of it left," it insists.
In other health matters, the Daily Mail attacks a failure to narrow the life expectancy gap between rich and poor.
It is "yet more proof that there is little connection between increased NHS spending and better results for patients".