Campaign group attacks union bosses over six-figure pay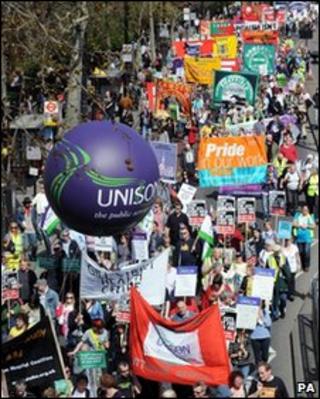 "Hypocritical" union bosses are opposing public spending cuts while enjoying six-figure pay and perks packages, a campaign group has claimed.
The Taxpayers' Alliance singled out 38 union leaders, including Unison's Dave Prentis and the RMT's Bob Crow.
It also urged the government to "stop pouring taxpayers' money into union coffers".
Unions said the Taxpayers' Alliance was "a secretive, self-appointed, right-wing front" that stood up for the rich.
The Taxpayers' Alliance said it had drawn up its Trade Union Rich List using figures from the 2008/9 annual report of the certification officer, David Cockburn, who oversees union finances.
'So well-off'
Top of the list, based on a combined figure for salary and benefits, is Gordon Taylor, chief executive of the Professional Footballers' Association, with a reported £856,007.
But the campaign group focused its attack on the heads of public sector unions - several of whom have threatened strike action over proposed spending cuts and job losses.
It said Mr Prentis was on £127,436 and Mr Crow on £105,679. Unite's Derek Simpson was said to have earned £120,328.
Matthew Elliott, chief executive of the Taxpayers' Alliance, said: "It is small wonder that they aren't worried about the tax burden or the national debt when they are so well-off, but it is ordinary, overstretched taxpayers who will suffer if they get their way."
The Alliance is opposed to monies paid to the unions under the Union Modernisation Fund - a government-funded project to help support non-political, trade union activities.
Unions hit back with a series of angry statements.
A spokesman for the RMT said the Taxpayers' Alliance should publish its own accounts.
"Their chief officer, who has launched this laughable attack on the trade union movement, has never been elected by anyone in his life," he said.
"They wouldn't understand the concept of internal democracy if it bit them on the backside.
"The Taxpayers' Alliance is nothing more than a secretive, self-appointed, right-wing front and why anyone takes them seriously is a total mystery."
'Worth every penny'
The TUC insisted that "not a single penny of any union general secretary's pay comes from the taxpayer".
"If the TPA really spoke for ordinary taxpayers, they would be asking hard questions about the directors of companies who have made themselves mega-rich through the privatisation of public services and PFI deals," a spokesman said.
"But of course they don't. This secretive organisation wants to cut taxes for the rich, while slashing public services for ordinary people."
Unison said Mr Prentis' salary was actually £92,688 - a figure agreed by the union's national executive committee - and he was "worth every penny".