Plymouth tombstoners 'ignored coastguards' warning'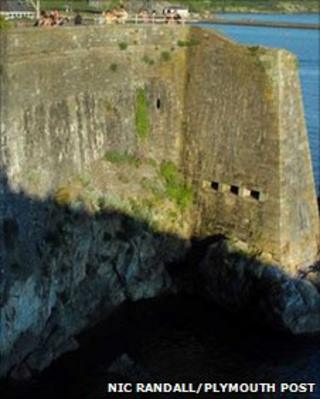 Coastguards say teenagers continued to tombstone off Plymouth Hoe even after one of them was seriously hurt.
A 17-year-old was taken to Derriford Hospital in Plymouth on Wednesday evening after jumping from 100ft cliffs and injuring his back.
But even as he was taken away by an ambulance, the teenager's friends carried on jumping into the sea, said Jeremy Lynn from Brixham Coastguard.
Tombstoning is the practice of plunging into open water from a high point.
Emergency services were called to Plymouth Hoe at about 1930 BST.
Jeremy Lynn, from Brixham Coastguard, said: "Our advice to his friends to stop was ignored and they wandered off and carried on jumping in another place."
Colleague Mark Satchell also said that hospital staff had told them the teenage victim had been drinking.
He said: "We all know that alcohol impairs judgement, but to jump into the unknown whilst under the influence of drink is just madness squared.
"If you want to jump from a high board into water use a swimming pool. It's safer."
The condition of the injured teenager is unknown.