Cinema moves Farnham town centre development forward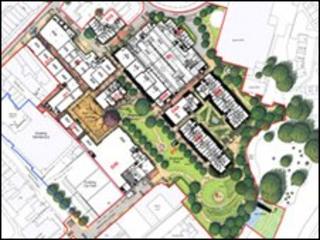 A town centre development that was delayed by the recession has moved forward after a deal was agreed to bring a cinema to the site.
Waverley Council said developers Crest Nicholson had agreed terms with the Odeon cinema chain for a six-screen, 750-seat cinema in Farnham.
Councillor Adam Taylor-Smith said it would help the scheme to move forward once the economy recovered.
He said it showed Odeon was confident the scheme would make progress.
"We are moving to being in a position where the scheme can progress once the wider UK economy recovers," he said.
"It is excellent news that a household name like Odeon is keen to come to Farnham.
"It shows that, like Waverley, Odeon is fully confident that the East Street development will continue to make progress and deliver the scheme of new shops, restaurants and apartments."
'Under-used site'
The East Street scheme, which was approved in October 2008, includes plans for new shops, restaurants, the cinema and 239 homes.
The development, a joint scheme by Sainsbury's and Crest Nicholson, had been in the pipeline since 1997.
Those in favour said it would regenerate an under-used site in the town centre and provide a new use for a restored Brightwell House, in an enhanced setting.
But protesters objected to the loss of Redgrave Theatre, increased traffic and congestion, loss of trees and historic features and modern buildings close to a conservation area.