Asda recalls nappies after Hull woman's complaint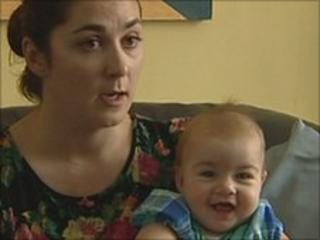 Asda has recalled a brand of its nappies after a Hull woman complained that her daughter nearly choked on fibres from one of them.
Karen Hamshaw-Hart said her nine-month old daughter Freya had been able to pull fibres from the store's Eco Nappies and put them in her mouth.
The UK supermarket said customers were advised to stop using the nappies immediately and return them to stores.
A spokesman said nappies from its other ranges were not affected.
Ms Hamshaw-Hart told BBC Look North: "Her [Freya's] mouth was full of stringy bits of fluff and her hands and her feet were covered in fluff as well.
She added: "I'm just really glad it was in the afternoon when I was keeping an eye on her because if it had been at night then it might have been a different story."
Asda said affected customers would be given a full refund.
Dawn Welham, the company's product safety director, said: "When it comes to baby products, we don't take chances.
"That's why, although we've only had one complaint about these Eco Nappies in the last two years, we've already made sure they've been taken off sale.
"Independent tests are under way to find out what happened but what is clear is that the issue is unique to these Eco Nappies, as they're constructed from completely different materials to all the others we offer."