Graduates 'face record unemployment'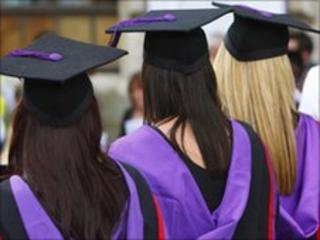 Graduate unemployment could hit record levels due to planned public spending cuts, a research body has warned.
The Higher Education Careers Service (HECSU) warns that because so many college leavers join the public sector, they are especially vulnerable to cuts.
It says that if a fifth of the 39,000 graduates joining the public sector every year lost their jobs, that would double graduate unemployment.
Some 600,000 public sector jobs are forecast to be lost by 2016.
The independent economic forecasting body the Office for Budgetry Responsibility said this week that 490,000 jobs could go by 2015 and 610,000 by 2016.
HECSU estimates there are 39,000 public sector jobs taken by graduates every year.
These would be counted as "at risk" because they are not considered as front line jobs, the only ones that the government has pledged to keep.
If only a fifth of these at-risk jobs was cut, then that would more than double graduate unemployment in one fell swoop.
"That would put graduate unemployment over 20% and pushing towards 25%," said Charlie Ball, deputy research director at HECSU.
The highest graduate unemployment rate seen in the UK was 13.5% in 1983.
According to Mr Ball, "it would not take much of a shock to the graduate jobs market to make the next few years some of the toughest ever experienced".
Heavy impact
Mr Ball warned that cuts could have a "dire" effect in parts of the UK with weak economies, which are most dependent on the public sector.
He cited Wales and the North East of England as areas where one in four graduates is recruited into the public sector, many in the NHS and higher education.
"This suggests that job cuts could drive educated young people away from regions that need to retain them and into the capital, in search of work," he warned.
"We don't know exactly where the cuts are going to fall, how deep they will be or when they will take place.
"However... the impact of the proposed cuts could be sufficient to have a profound effect on the labour market for new graduates, and particularly on those outside London.
"It is possible that the next four years could be the toughest for new graduates ever."