Times begins charges for online readers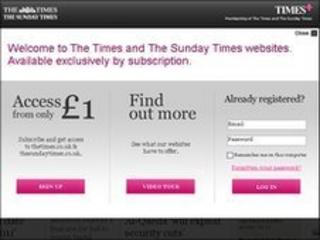 The Times newspaper has begun charging readers to access its online content.
From now on, access to the Times and Sunday Times website will cost £1 per day, or £2 a week if readers sign up to a subscription.
News International, which owns the papers, announced plans to impose charges earlier this year in response to falling advertising income.
Currently the Financial Times and the Wall Street Journal are the only major papers to have similar paywalls.
All other national papers offer free access to their sites, but are likely to watch the launch of the Times paywall closely.
Losing readers
Falling readership numbers and advertising revenues have put significant pressure on newspapers in recent years, and devising the best way to make money from content is seen as a major challenge for the industry.
Other papers including the Guardian have vowed to keep content free, pinning their hopes on a recovery in advertising revenues.
Although the Times risks losing readers as a result of the new charges, News International hopes the charge will be low enough to attract sufficient readers.
Robin Goad from Experian Hitwise, which monitors web traffic, told BBC Radio 5 live's Wake Up To Money programme that traffic to the Times website had fallen "significantly".
"Since the registration wall has gone live, we've seen about a 60% drop in traffic over the last couple of weeks," he said.
However, "that is probably a little bit less of a drop than a lot of people expected... so this is quite a positive [figure]," he added.
Under an introductory offer, registered readers will be able to access the site for £1 for the first month.
Rivals benefit
The site has already been restricted to registered users for the last 30 days.
"We have been very pleased with the response from readers since the launch," said Rebekah Brooks, News International's chief executive.
"We believe the new sites offer real value and we look forward to continuing to invest and innovate for our readers."
Figures from Experian Hitwise showed that last week, 18% of visitors to the Times website then went to the special site to register for access (MyTimes+), indicating that they were willing to or interested in registering to see content.
After that, the most popular destination for Times website visitors was the Telegraph, who picked up 3.8% of readers and the Guardian and Daily Mail sites who each received 2% of the Times' traffic.
Experian points out that none of the paper's rivals has particularly benefited from Times readers needing to register for content.
But that may change when readers have to start paying, it points out.
(Story continues below)
The analysts also looked at it from the other direction - i.e. where other news websites' readers came from.
From that perspective, the Independent received the largest proportion of its traffic from the Times' registration site, MyTimes+, closely followed by the Telegraph.
"The Times' traditional broadsheet competitors are best placed to pick up readers not willing to register or pay to see its content," Experian Hitwise said.