Taylor war crimes trial orders Naomi Campbell to court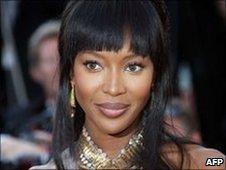 British supermodel Naomi Campbell has been ordered to give evidence on 29 July in the war crimes trial of former Liberian President Charles Taylor.
The UN-backed Special Court for Sierra Leone issued a subpoena forcing her to appear and said law enforcement agencies should ensure she did so.
Prosecutors say Ms Campbell was given a "blood diamond" by Mr Taylor in 1997 at Nelson Mandela's house in South Africa.
Mr Taylor is accused of using such diamonds to fuel a war in Sierra Leone.
Ms Campbell had previously refused to provide testimony in the case.
In a ruling published on Thursday, the judges of the Special Court, which sits in The Hague, ordered the registrar to serve Ms Campbell the subpoena and transmit copies to the authorities in the country where she was currently living.
On Wednesday, the court agreed to a prosecution request to call Ms Campbell, as well as the actress Mia Farrow and Ms Campbell's former agent, Carole White.
Ms White has said she heard Mr Taylor say he was going to give Ms Campbell some diamonds and was there when she received them.
Ms Farrow, who attended the dinner, has said Ms Campbell told her about the gift of the diamond the following morning. Ms Campbell said she had been visited by Mr Taylor's aides during the night, and that they had given her a "huge" uncut diamond, according to Ms Farrow.
Prosecutors had complained that they had tried unsuccessfully to contact Ms Campbell several times since June 2009, when they first heard of the gift. They cited public statements in which she said she "does not want to be involved".
They said the model's testimony would support their contention that Mr Taylor lied when he testified that he never possessed rough diamonds.
Agreeing to the request on Wednesday, the court said: "The prosecution has shown that there is at least a good chance that the information to be provided by Ms Campbell would be of material assistance to its case."
Ms Farrow and Ms White were both willing to testify, prosecutors say.
Mr Taylor is accused of selling diamonds and buying weapons for Sierra Leone's Revolutionary United Front (RUF) rebels, who were notorious for hacking off the hands and legs of civilians during the brutal 1991-2001 civil war.
He pleaded not guilty to 11 counts of war crimes and crimes against humanity stemming from the war when his trial opened in June 2007.
He has also dismissed the claims he presented Ms Campbell with a "blood diamond" - the name given to diamonds mined in areas of conflict that are sold to fund warfare.
The court said the three women should appear as soon as possible, before the close of the defence's case, expected by September.
Related Internet Links
The BBC is not responsible for the content of external sites.