Melrose Primary pupils show abbey pride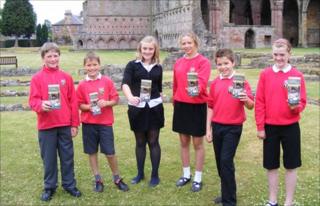 Primary 7 pupils at Melrose Primary School have launched a new leaflet at the town's historic abbey.
Crafty Carvings is aimed at young people and details the beautiful carvings in the abbey and the background to them, as well as a history of the abbey itself.
The leaflet is "written" by Jacques, the Bagpipe Playing Pig, who can be found carved high up on the structure.
Jacques was created by a French stonemason called John Morow who worked at Melrose Abbey in the 15th Century. The building is renowned for his work on the south transept.
The pupils spent a number of months researching and creating the leaflet, with the help of Historic Scotland, working with a graphic designer and watching demonstrations by a modern-day stonemason as well as creating some illuminated lettering of their own.
'Really interested'
The pupils also worked with Jane Gaze, local learning officer at Melrose Abbey.
She said 1,000 leaflets had been printed and more could be produced as and when required.
One of the pupils, Flora Purvis, said she had really enjoyed all the research work involved in the production of the leaflet, as well as seeing stonemasons at work.
Although she had been to the abbey on a number of occasions, she said she had been unaware of many of the secret carvings on the building.
Meanwhile fellow pupil Michael Palmer said he had enjoyed working with graphic designer Robert Sproul-Cran.
When asked what he thought other young people would make of the leaflet they had produced he said: "I think they'll be really interested.
"They'll be able to look around the abbey and find all sorts of interesting things."