Workers sent home from blast-hit Lindsey Oil Refinery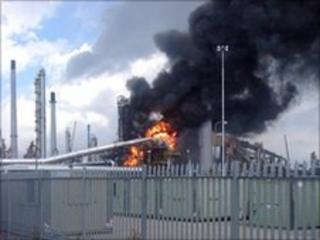 Workers at the Lindsey Oil Refinery have been sent home after asbestos was found by teams investigating a fire and explosion at the site.
Oil company Total said traces of asbestos had been found at the North East Lincolnshire refinery.
The material was discovered after the fire and explosion at the refinery's crude oil distillation unit on Tuesday.
A 24-year-old Grimsby man, Robert Greenacre, who was working nearby, died in the incident.
Total said the asbestos was found on Wednesday afternoon at the HDS-3 processing unit which is adjacent to the distillation unit.
A spokeswoman said it was thought asbestos insulation had been "disturbed" by Tuesday's incident, which is being being investigated by the Health and Safety Executive (HSE) and the police.
She said that contractors at the HDS-3 unit, thought to be in their hundreds, had been sent home while safety checks continued.
Phil Whitehurst, of the GMB union said: "Independent specialists from Yorkshire have found traces of asbestos at the scene of the explosion.
"Workers on the HDS-3 plant have been sent home on full pay until Monday while specialists deal with the asbestos problem."
More than 50 firefighters from Humberside Fire and Rescue Service were called to the plant where black smoke was seen billowing into the sky.
Employees at the refinery said the fire started in a superheated industrial heater near where they walked to work.
Two other people suffered minor injuries in the incident.