Academies' success questioned over vocational subjects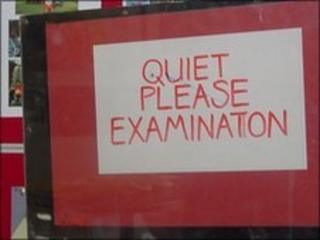 The success of England's academies is being questioned after data showed they rely more heavily than regular state schools on GCSE equivalents.
Official figures, in the TES, show 49% of academy A*-C GCSE passes were for "academic" exams, compared with 73% in other schools.
Many vocational exams taken instead are thought less demanding, but count for up to four GCSEs in league tables.
The government says academies are improving at twice the national rate.
And a spokesman stressed that this was even the case when these independently run, state-funded schools were measured against the national benchmark of five good (grades A* to C) GCSEs including English and maths.
This benchmark was introduced in part to prevent schools from switching to non-academic qualifications in order to jump up the league tables.
But the newly released figures could be embarrassing for the new Education Secretary Michael Gove, who has accelerated the academies programme and stresses the importance of an academic education in so-called "hard" subjects.
His junior minister Nick Gibb made a speech on Thursday bemoaning the emphasis on skills rather than knowledge among today's pupils.
The figures, for the academic year 2008-9, were revealed in a parliamentary question tabled by the Labour MP Tristram Hunt, but drafted by the Times Educational Supplement and the think tank Civitas.
They showed that 48% of A* to C passes in academies were made up of non-academic equivalent qualifications. These included BTechs, OCR Nationals, basic, key and functional skills, NVQs and VRQs.
A further 3% were from applied GCSEs.
Mr Hunt said: "It is of real concern that the government seems about to depart on a policy without gathering the empirical evidence of what is going on in schools."
'Questionable value'
It has long been suspected that some academies have used vocational qualifications to get less able pupils achieving and that these can give an impression that they improving at a fast rate.
And many individual academies have resisted publishing a detailed breakdown of what examinations are being taken.
Education director at Civitas, Anastasia de Waal, who has campaigned for the information to be made public told the TES that academic subjects were being replaced with qualifications of "extremely questionable value".
"The ultimate concern is that the already deprived are being deprived of academic learning and that un-checked this is set to continue much further," she added.
A Department for Education spokesman said: "Since the new, tougher Ofsted inspection regime was introduced, academies are over three times more likely to be rated outstanding than other state schools, while half as many academies are judged inadequate.
"Based on the national standard upon which all schools are measured, academies' GCSE results are increasing twice as fast as the national average.
"It is very important that young people are entered for the qualifications that are in their best interests rather than being entered for exams simply to boost the league table position of the school."
NUT general secretary Christine Blower said the evidence confirmed the obvious.
"It is not the status of a school that raises standards but the school community itself.
"It begs the question why the government is persisting with hoodwinking the country into believing that academies are the best route to improving education.
"It is time to drop the programme and concentrate on achieving a good local school for every child, operating under the umbrella of the local authority family of schools."