Folkestone soldier unlawfully killed in Afghan blast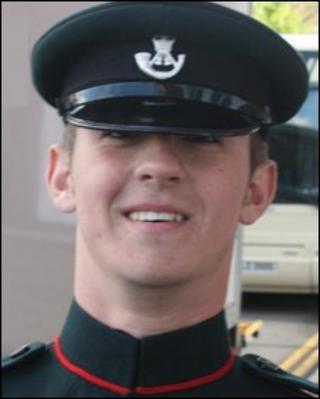 A soldier who died in an explosion in Afghanistan was unlawfully killed while on active service, a coroner has said.
Rifleman Peter Aldridge of A Company 4 Rifles was serving as part of 3 Rifles Battle Group when he died in Helmand province on 22 January.
The 19-year-old from Folkestone, Kent, was on his first tour of duty when he died, and was part of an operation to provide security in Sangin.
His last words to a medic treating him were to tell his mother he loved her.
The inquest at Ashford Magistrates' Court heard the soldier was on foot patrol when the group came under heavy enemy fire, forcing some of them to shelter behind an embankment.
Blast injuries
The firing stopped after about a minute, and Rifleman Aldridge stood up to look for the enemy.
Another soldier, Rifleman Reece Terry, then saw him place his foot on the embankment, detonating an improvised explosive device hidden in it.
A Medical Emergency Response Team helicopter arrived in 27 minutes, within the "golden hour" response time, and airlifted him to a field hospital at Camp Bastion where he was pronounced dead, the inquest heard.
Two other soldiers were seriously injured.
L/Cpl Jodie Hill, a medic, said the soldier was conscious but distressed and confused, and at some points tried to sit up on the stretcher, making it more difficult to treat him.
He went into cardiac arrest during the flight, but medics continued trying to resuscitate him.
A post-mortem examination carried out in the UK found he died from blast injuries caused by an explosion.
Recording the verdict, coroner Rachel Redman said: "He was blown eight metres, sustaining massive injuries, and we also know that other people were also seriously injured by the explosion.
"Nevertheless they were able to get quickly to Rifleman Aldridge to help him.
"I can only express my huge admiration of the actions by his comrades in trying desperately to treat him, to try and help him and to call in for help."
'Role model'
Lt Michael Holden, 1 Platoon Commander, said Rifleman Aldridge had a great deal of experience despite his young age, and was one of the longer serving members of his platoon.
He said: "He made his mark from the outset and was already one of the natural leaders in his platoon. The less experienced riflemen respected and looked up to him as a role model."
He added: "It was clear from when he first arrived in the battalion that he was more comfortable in the field than in barracks, and in Afghanistan his character really came to the fore."
He said Rifleman Aldridge had shown courage and commitment and was deeply loyal to his fellow riflemen with maturity beyond his years.
And he also described the soldier as having "no fear of rank, admirably direct, with an appetite for adventure, a quick tongue, an easy laugh and broad shoulders".
In a statement issued after the hearing, the Aldridge family said: "Peter died doing a job he loved beside his brothers in arms. For the Aldridge family this will be something they will always find comfort in."
Rifleman Aldridge was the 250th member of the British Armed Forces to die during the Afghanistan conflict.