Fine Gael's Enda Kenny says 'army council are no more'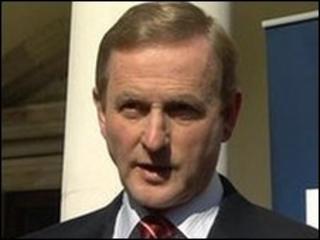 Fine Gael leader Enda Kenny has said he accepts the "IRA and its army council are no more".
Mr Kenny made his remarks during a debate in the Dail in Dublin on Wednesday.
In June, he said he would not share power with Sinn Fein because the IRA army council had not been stood down.
His comments came during a visit to Belfast for a series of meetings with Northern Ireland political leaders.
During Wednesday's debate on the Saville inquiry report, Mr Kenny said he had had a difficulty with Sinn Fein for many years "on the issue of the army council of the IRA".
"In my presence, following questions, both the president of Sinn Fein Gerry Adams and the Deputy First Minister Martin McGuinness confirmed that from every perspective they could see, the IRA and its army council are no more.
"I accept the deputy first minister's statement in that regard".
Mr Kenny said he would be writing to Mr McGuinness "in due course about several other matters".
In June, Mr Adams dismissed as "hugely offensive" the remarks by Mr Kenny.
The Sinn Fein president said his party would not consider sharing power with Fine Gael as nationalists did not trust them on the "national question".
He was speaking after a meeting with Mr Kenny in Belfast on 21 June.