Gloucestershire man allowed to keep home of straw bales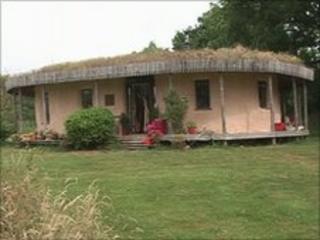 A man who has been living in a straw house in the Forest of Dean has been allowed to keep it, despite a bid by planners to have it knocked down.
Jim Wallis, 51, was allowed to build a temporary structure at Staunton for research and educational purposes more than 10 years ago.
But when he moved in, the council said he had breached planning laws.
Following two planning appeals, a government inspector has ruled that the house may stay.
Forest of Dean Council said the decision was "very disappointing."
'Mountain of bills'
The house, made out of straw bales, was a prototype for a sustainable housing project with the environmental charity Green and Away.
The council had claimed it should be demolished as Mr Wallis did not have permission to use it as a home.
Mr Wallis lost one appeal against the authority and took his fight to the High Court, which allowed him a second appeal that he has now won.
Mr Wallis said: "I'm delighted, but on the other hand I'm faced with a mountain of legal bills to pay and disappointed that the Forest of Dean Council has approached this whole case in the way that they have.
"I think it's been a shocking waste of council officers' time, it's been a shocking waste of charge-payers' money.
"I think there are serious questions which need to be asked by people within the planning department."
Under planning law, an authority has either four years or 10 years in which to take action, depending on the breach of condition. After that time, a person becomes immune to enforcement.
A statement from the council said: "The council's argument in this case was that the relevant period was 10 years as there was a breach of a condition on the original planning permission which stated that no-one lives there.
"The inspector accepted the appellant's argument that the relevant period in this case was four years.
"The complexity of the arguments is reflected in the fact that the case has been the subject of consideration by two inspectors and the High Court."
The ruling said that with the exception of the house, Mr Wallis must demolish any outbuildings and "domestic paraphernalia".