US judge grants one Russian spy suspect bail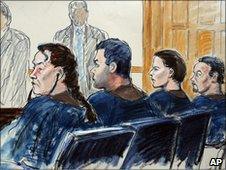 A judge in New York has granted bail to one woman accused of spying for Russia and denied bail to two other suspects.
Judge Ronald Ellis said journalist Vicky Pelaez could be freed on $250,000 (£167,000) bail and placed under house arrest as soon as Tuesday.
A bail hearing for her husband, Juan Lazaro, was postponed. Prosecutors say he has admitted working for Russia.
Bail hearings for five other alleged Russian spies were delayed by courts in Boston and Alexandria in Virginia.
Those denied bail in New York City were the suspects named as Cynthia and Richard Murphy, who had been living in New Jersey.
The judge said he could not be certain of who they were and so could not grant bail, the BBC's Laura Trevelyan in New York reports.
The pair sat impassively in court, giving away very little of what they were thinking, our correspondent says.
Whereas prosecutors argued that they were part of a powerful and sophisticated espionage network, the suspects' defence lawyers disputed whether they would have been in a position to pass anything valuable to Russia, our correspondent adds.
Granting Ms Pelaez bail under strict conditions, the judge said she was a US citizen and did not appear to be trained as a spy.
The nine have been held since they were arrested on Sunday with a 10th suspect. An 11th suspect disappeared in Cyprus after he was released on bail.
The alleged agents are accused of posing as ordinary residents to collect information for Russian intelligence.
The 10th suspect, using the name Anna Chapman, had her bail request denied by a US court on Monday.
US police moved in on the group after an investigation lasting more than a decade.
Earlier on Thursday, prosecutors said Juan Lazaro had confessed to working for Russia's intelligence service.
Prosecutors said he had admitted that "Juan Lazaro" was not his real name and that his home in Yonkers had been paid for by Russian intelligence.
He is also said to have confessed that his wife passed letters to the "service" on his behalf.
He told investigators that even though he loved his son, "he would not violate his loyalty to the 'service' even for his son", prosecutors wrote in a court document.
Federal prosecutors also submitted evidence to the court that $80,000 in new $100 bills had been found in a safe-deposit box belonging to Mr and Mrs Murphy, along with a false birth certificate for Mr Murphy.
Assistant US Attorney Michael Farbiarz argued against the four being granted bail, saying: "There are a lot of Russian government officials in the United States who are actively assisting this conspiracy."
The evidence in the case was "extraordinarily strong" and continuing to mount, he told the judge.
Lawyer Donna Newman, defending Mr Murphy, said he was a stay-at-home dad whose networking was with other parents at kindergarten.
In Boston, US Federal Judge Jennifer Boal ordered that Donald Howard Heathfield and another suspect identified in court papers as Tracey Lee Ann Foley remain in custody until the new hearing on 16 July.
Judge Boal also ordered a hearing to consider custody for the couple's two children.
Mr Heathfield's defence lawyer, Peter Krupp, told the judge the case against his client was "extremely thin".
"It essentially suggests that they successfully infiltrated neighbourhoods, cocktail parties and the PTA," Mr Krupp said.
In Alexandria, Virginia, a bail hearing due to take place on Thursday for the suspects named as Michael Zottoli, Patricia Mills and Mikhail Semenko was delayed until Friday.
Ms Chapman, 28, has been painted as the femme fatale of the alleged spy ring, with several glamorous photos posted on her page on Facebook.
The 10 suspects held in the US are accused of trying to blend into American society and cultivate contacts among policy makers in order to pass information on to Russian intelligence.
They are accused of conspiracy to act as unlawful agents of a foreign government, a crime less serious than espionage but which carries up to five years in prison.
Most of them are believed to be Russians living under false names.
Moscow initially reacted angrily to the allegations but both sides have said they will not let it harm relations.
The 11th suspect disappeared in Cyprus on Wednesday.
Officials in Washington have expressed disappointment that Cypriot officials freed him on bail.
The man, a Canadian passport holder, was named by police as Christopher Metsos. He was due to sign in at a police station in the coastal town of Larnaca on Wednesday but did not show up.
He was held at Larnaca airport on Tuesday as he tried to board a plane to Budapest, a day after the US said it had held 10 other suspects.
Mr Metsos was awaiting a hearing for extradition to the US.
Aged 54 or 55, he is depicted by US prosecutors as the alleged spy ring's shadowy money man, visiting the US as early as 2004 to deliver bags of cash to its members.
Accused of money laundering, he was released on bail of 26,500 euros (£21,700; $32,500) to await an extradition hearing scheduled for 29 July.
Cyprus has issued an arrest warrant for him on Thursday but police were not certain whether he remained on the island.