Public get say on guide for Bournemouth Imax developers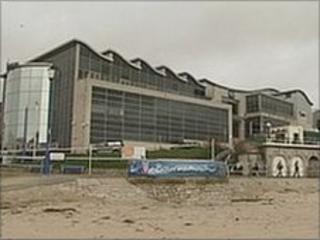 Residents are to get their say on draft guidelines for developers tasked with replacing a controversial building that blocks Bournemouth's seafront views.
The Waterfront building houses an Imax cinema which opened in 2002, but closed three years later.
The council has drawn up guidelines highlighting an earlier public vote on what should replace the site, including tropical gardens and water park.
People can comment on the draft guidelines from Friday until 4 August.
The earlier vote revealed people wanted to see tropical gardens, a water park, an interactive arts, entertainment and museum complex, and a performing arts amphitheatre.
More than 3,500 people took part in the consultation which offered voters the choice of seven options, including parks, bistros and museums.
After 4 August, the latest feedback will be analysed before a final planning brief is drawn up and presented to the borough council's cabinet for approval on 8 September.
Council leader, councillor Stephen MacLoughlin, said: "The planning brief will be a guide for developers so that they understand the public and the council's aspirations for the site.
Vacate sub-tenants
"We will expect them to put their own interpretation on Bournemouth's requirements and come forward with inspirational schemes.
"At that stage, we will look at their proposals and start to determine exactly what might replace the Imax."
Only three restaurants still operate inside the building, which was bought by the council in February from long-leaseholders Nilgosc for about £7m.
The authority is currently seeking a compulsory purchase order to vacate some of the sub-tenants, and says demolition will not start until summer 2011 at the earliest.
The building was constructed in 1998, opening nearly three years behind schedule, before closing in 2005 after having problems showing 3D films.
Nilgosc has previously declined to comment on the purchase or why the building had not been redeveloped since 2005.