South Lanarkshire councillor 'knew' property developer
By Mark Daly
BBC Scotland investigations correspondent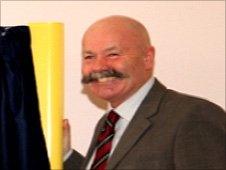 A BBC investigation into planning decisions at one of Scotland's largest councils has revealed evidence of a close personal relationship between an influential councillor and a millionaire property developer.
Labour councillor Jim Docherty is facing calls to resign after failing to declare a long-standing friendship with Labour donor James Kean, who owns large areas of land in South Lanarkshire.
Opposition politicians claim Mr Kean may have benefited from controversial planning decisions which have involved the councillor, and have called for every planning application from Mr Kean's companies to be examined.
Mr Kean owns a string of firms based in East Kilbride, and has strong connections to a company called JHAG which is currently applying to build a retail park and a Tesco on the outskirts of East Kilbride.
But a rival bidder, Dawn Group, has complained of bias, and that the JHAG bid was being rushed through planning at the expense of their its application to build an Asda nearby.
Dawn has launched a Court of Session action against the council to ensure that both bids are heard at the same time.
This comes after local speculation about Mr Kean's relationship with Jim Docherty, who is the local Labour party's business manager.
Councillor Docherty is a long-standing and influential member of the planning committee, as well as the chairman of the estates committee.
Earlier this year it emerged that he bought a house from Mr Kean for £320,000, in the same street as the millionaire developer.
Councillor Docherty previously refused to respond to press speculation that he had a personal relationship with Mr Kean, who is a registered Labour donor.
Mr Kean gifted the local party £1,260 in 2008 and his brother's company, Kilbride Construction, handed the Scottish Labour party £2,000 last year.
The SNP complained to the Standards Commission, the body which regulates local government, claiming any relationship between Mr Docherty and Mr Kean would be a conflict of interest.
However, last week, the commission found that Mr Docherty had not broken any rules.
It said: "No evidence has been provided of a relationship between Councillor Docherty to the applicant [Mr Kean] or his companies in regard to the. . . applications."
The BBC has now established that Mr Docherty and Mr Kean are in fact old friends.
Mr Kean is the nominated godfather to Councillor Docherty's daughter, who was baptised at St Vincent's Parish Church in East Kilbride last June.
Councillor Docherty is a regular visitor to Mr Kean's properties in Strachur, Loch Fyne. They are regularly seen together eating and drinking in the village's pubs.
Councillor Docherty has been involved in numerous successful planning applications involving Mr Kean, but it is understood he has never declared an interest when Mr Kean's applications came up.
Rule 5.13 of the Code of Conduct for Councillors states: "The key principle is the need for transparency in regard to any interest which might be objectively regarded by a member of the public ... as potentially affecting your responsibilities as a councillor."
Several Kean business deals in the area have raised questions from the community. Now opposition politicians are calling for Councillor Docherty to resign and have demanded every Kean application involving the councillor be reviewed.
SNP group leader for South Lanarkshire Anne Maggs said the BBC's evidence of the pair's friendship could substantiate the rumours that had circulated in the area for years.
She added: "The least that we can expect is that the planning applications and estates committee reports are looked at again, where Mr Docherty and Mr Kean are involved.
"If these allegations are proved to be true, then the SNP group will be calling for Mr Docherty to resign from the council, because I think his position is untenable now."
Neither Councillor Docherty nor Mr Kean commented on their relationship.
Mr Kean strongly denies that he has ever received favourable treatment in any planning decision, and told the BBC that because of persistent rumours, he commissioned a consultant to review his business transactions, which gave his firms a clean bill of health.
Mr Docherty simply referred the BBC to the previous Standards Commission report which found no relationship between the pair relating to Mr Kean's applications.
A spokesman for South Lanarkshire Council said it was up to the individual councillor to declare any interests and that it was the Standards Commission who would investigate breaches of the rules.
The BBC is passing its investigation to the commission.
Related Internet Links
The BBC is not responsible for the content of external sites.