Homeowners 'ignorant on asbestos'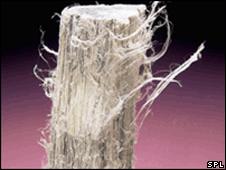 Almost two-thirds of people would not be confident of identifying asbestos in their home, a survey suggests.
Prolonged or intense exposure to asbestos fibres can cause lung diseases but it can be safely managed at home.
The British Lung Foundation wants people to be made more aware of the possible risks of carrying out DIY on asbestos-containing materials.
Its survey of 2,000 homeowners found 45% did not realise that asbestos had been used as a building material.
The ultra-resistant substance was used extensively in the 20th Century in many aspects of building, and can be found in floor tiles, textured ceiling coatings and in the lining of boiler cupboards.
It is those who were employed in areas where they regularly worked with asbestos, from shipyards to plumbing, who are most at risk of developing conditions such as the cancer mesothelioma, as well as asbestosis and other lung problems.
These may not appear for many decades after exposure.
As the material is no longer actively used, the greatest risk is now to those who are involved in demolition, or building repair and maintenance, as it is only when disturbed that it releases the dangerous fibres into the air.
It was suggested that the former Sex Pistols manager Malcolm McLaren, who died earlier this year from cancer, may have come into contact with the material while ripping down the ceiling of his shop in the 1970s.
The BLF calculates there are some 14m homes in the UK which were built when asbestos was being used as a building material.
It says it does not want to scare homeowners, stressing asbestos is safe as long as it is not disturbed - and indeed it is often best left alone.
But it believes the knowledge gap uncovered in its survey suggests greater effort is needed to raise awareness when people are carrying out DIY.
It found 65% of British homeowners were not confident of identifying asbestos in their own homes and 77% said they had never received any information on how to identify and manage the substance.
It has produced a list of the most likely places to find asbestos and tips on how to deal with it once it is found.
It should never be drilled or sanded, and if you are working around it, the surfaces should be dampened to stop dust being released and suitable protective clothing worn.
If you want to remove it, advice should be sought from your local authority or certified asbestos removal firm. Any waste needs special collection, and should not be put in the dustbin.
"Our survey has highlighted that nearly half of all homeowners do not know that asbestos was actually used as a building material and could be in their homes today," said Dame Helena Shovelton, chief executive of the BLF.
"In light of this there's definitely more work that needs to be done to make sure people are asbestos aware."
Cases of asbestos-related disease as a result of DIY do not appear to be common, although there is a long latency period.
The Health and Safety Executive, which works to inform tradesmen of the dangers of asbestos, said it was nonetheless supportive of the campaign to raise awareness among homeowners.
"The HSE welcomes any efforts to raise awareness about the dangers of asbestos and that is why we are supporting the British Lung Foundation in its call for people to 'be asbestos aware'," a spokeswoman said.
"Our advice is that householders should not attempt to remove asbestos containing materials that are higher risk such as sprayed coatings, insulation board or lagging - these materials can only be safely removed by a contractor licensed by the Health and Safety Executive."
Related Internet Links
The BBC is not responsible for the content of external sites.