Armoured vehicle contract win for south-east Wales jobs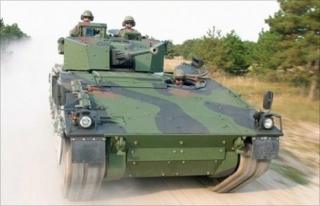 A deal for a new British light tank has been signed, safeguarding hundreds of jobs in south Wales, and creating 200 new posts over the next few years.
The new Scout vehicles will be equipped at General Dynamics sites at Oakdale and Newbridge, Caerphilly.
The £500m contract was signed off by Defence Minister Peter Luff on Thursday following a deal in March.
About 600 of the new vehicles will be built initially, with plans for up to 600 more.
The new light tank is designed to replace the Scimitar scout vehicle, providing troops with more protection and firepower.
It is estimated that the decision to proceed with the contract will safeguard 250 jobs in Caerphilly and lead to another 200 jobs being created.
Under the deal signed off on Thursday, General Dynamics will now build and deliver seven prototype vehicles for the Ministry of Defence.
The light tank, known by the company as the 'ASCOD SV', can be used as an armoured personnel carrier and a recovery and repair vehicle.
"The MoD chose General Dynamics UK's ASCOD SV because it guaranteed the best protection for British troops, the best value for money for the British taxpayer," said Dr Sandy Wilson, president and managing director of General Dynamics UK.
He said the multi-use vehicle also provided "the best deal for the UK industrial base", with an expected 30-year lifespan.
"I am particularly proud that this vehicle has been designed in Britain by British engineers and will provide jobs for British workers, as well as saving the lives of British military personnel wherever they may be in the world," he added.
The Welsh Secretary, Cheryl Gillan, said the contract marked the UK government's commitment to long-term planning for the British Army.
Mrs Gillan said: "Today's major announcement will not only be welcome news for British soldiers serving abroad, but welcome news too for the economy of Wales.
"It shows this government's confidence in the talents, expertise and skills of Welsh workers, safeguarding hundreds of quality engineering jobs in south-east Wales."