Council payout over Bath Spa investment revealed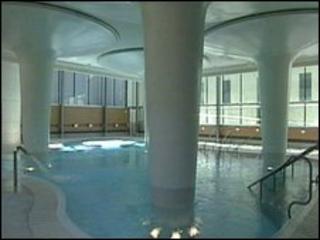 Bath and North East Somerset Council (Banes) received less than £7m back from its investment in the Bath Spa project, accounts have revealed.
The spa eventually cost £45m, three times the original estimate.
A legal battle over responsibility for the rising costs was averted last year by an out-of-court settlement between the council, builders and architect.
But a confidentiality agreement previously prevented the amount of money awarded being revealed.
The council, builder Carillion and architect Nicholas Grimshaw had been due to go to court in January, but the agreement was reached last November.
The actual figure is included in the council's accounts which show that it received a total of £6.962m.
In a statement issued at the time, Banes said: "The settlement agreement provides for net payments to be made to the council towards its spa-related costs by both Carillion and NGP.
"The payment by Carillion takes account of its own financial claim against Banes.
"All three parties agree that the settlement reflects a sensible recognition of the costs and uncertainties associated with pursuing litigation."
Carillion initially served a writ against the council claiming £2.4m and the council brought a £21m counter claim against the company.