Four given Lancashire police bravery honours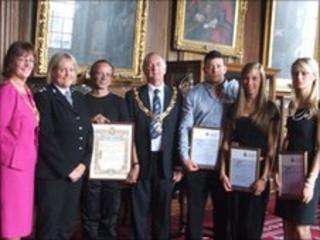 Three people, who comforted a 13-year-old boy as he lay dying beneath a bus, and a cyclist who saved a man from a canal, have received bravery awards.
Lucinda Wannop, Jack Ferguson and Clare Lyden helped Dean Wilkinson, who was hit by a bus on Slyne Road, Lancaster.
Robin Smethhurst was commended for diving into Lancaster Canal to save John O'Connor on in August 2009.
Lancashire Police said the four went "above and beyond the normal actions we see from the public".
Ms Lyden, 23, from Lancaster, Ms Wannop, 19, from Overton, and Mr Ferguson, 22, from Morecambe, all stopped to help following the bus accident on 12 October 2009.
Both Ms Wannop and Mr Ferguson crawled beneath the bus to hold Dean, while relaying information to the emergency services, a police spokesman said.
Meanwhile, Ms Lyden offered reassurance to Dean's 10-year-old friend before also going to Dean's aid.
They were each presented with Lancashire Constabulary commendations for their "courageous and selfless actions at the scene of a fatal road traffic accident" at Lancaster town hall.
Mr Smethurst, from Lancaster, was presented with the Liverpool Shipwreck and Humane Society Award.
'Prevented a tragedy'
He had been cycling Lancaster's canal path on August 12, 2009, when he saw John O'Connor collapse and fall into the water.
He jumped into the canal fully clothed and pulled Mr O' Connor to safety, before calling the emergency services.
Ch Supt Tracey Launder said: "All four people went above and beyond the normal actions we see from the public when incidents like these unfortunately occur.
"Robin's quick-thinking at the canal prevented a tragedy from happening and I am sure the man he rescued is very grateful.
"Clare, Lucinda and Jack did everything they could at the scene of the road accident and I know that their caring actions have offered some comfort to Dean's family."