Scheme helps boost bird numbers in Cambridgeshire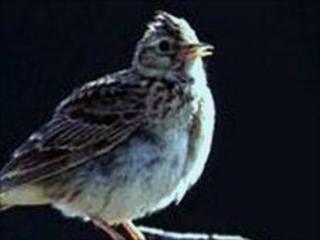 An RSPB project has helped almost treble the number of farmland birds over the past 10 years, figures show.
The RSPB, which owns Hope Farm in Cambridgeshire, said it had seen the number of birds increase by 177% in the past decade.
It said the project had been particularly successful in boosting the number of threatened skylarks, linnets and yellowhammers.
About 7.5% of the 450-acre farm is devoted to environmental schemes.
These include wildflowers sown in margins around fields, well-managed hedgerows and bare patches in winter-sown cereal fields, known as "skylark plots".
These make it easier for the birds to forage for food and rear young.
'Farmed countryside'
The RSPB believes the methods could be used to reverse the nationwide decline in farmland birds, which have seen populations of key species halve since 1970.
The charity estimates that the decline can be reversed by managing 4% of the country's land specifically for wildlife - which they say is double the current level of about 2%.
The rest of the farm is run along conventional lines and for a profit.
RSPB conservation director Mark Avery said: "We have shown that with careful consideration we can make efficient use of our farmed countryside to provide both a home for wildlife and food for our tables."
He added: "The challenge for the RSPB at Hope Farm in the future will be how we continue to build on the farmland bird successes of the past decade whilst also tackling the issues of carbon and diffuse pollution."
Arable farmer Robert Law, from near Royston, Hertfordshire, said he had achieved results on his own land with measures used at Hope Farm.
A recent wild bird survey at his farm revealed 38 species including seven pairs of corn buntings, 13 skylark pairs and two pairs of grey partridge.