EU banks' muted demand for short-term loans boosts euro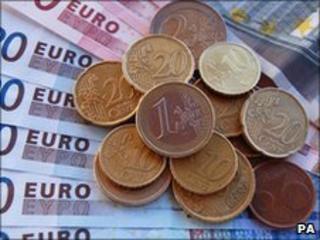 Relief that a second day of lending by the European Central Bank (ECB) to commercial banks passed off without any nasty surprises helped boost the euro on Thursday.
The results of a tender for six-day ECB funds suggested eurozone banks were managing to repay emergency loans.
The news helped to restore some confidence in the single European currency.
The euro gained more than 1 cent against the dollar, to $1.2371.
Against the pound, it rose almost half a penny to 82.391 pence.
The ECB's six-day lending to 78 banks totalled 111.2bn euro (£91.51bn, $136.7bn).
On Wednesday, the ECB had agreed three-month loans worth 131.9bn euros.
This was less than the 150bn euros to 200bn euros many had expected.
However, although the amounts borrowed indicated that banks had more money than some had feared, analysts said European banks still faced liquidity problems.
"Given that these [ECB] loans were, at 1%, well above the level of [the interbank lending rate] Euribor, the obvious implication is that some banks are still very reliant on the ECB for funding," said Jane Foley, research director at Forex.com.
Downgrades
Banking shares had been under pressure after the ECB confirmed it would be stopping special 12-month loan facilities for banks from Thursday.
Investors were concerned that European banks could face funding problems as a result. These concerns hit the euro and global stock markets.
News on Wednesday that ratings agency Moody's had put Spain on credit watch amid fears it would struggle to service its debts served to heighten concerns.
On Thursday, the agency downgraded five of the country's regional governments' credit ratings.
However, strong demand for Spanish government bonds allayed fears and helped to boost the euro.