Mobile phone ads "poor" says Three chief Kevin Russell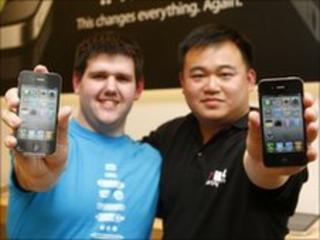 The head of mobile network Three has criticised the way in which phone tariffs are advertised.
Kevin Russell's comments follow a ruling from the Advertising Standards Authority (ASA) against rival network Orange.
Orange had claimed in a press advert that its 3G network "covers more people in the UK than any other operator".
"As an industry our marketing standards are poor and it has led to cynicism," he said.
Orange's claim was challenged by Hutchison 3G which runs the combined Three/T-mobile network.
ASA ruled in favour of Hutchison and said the advert was misleading because it was not clear whether the claim referred to coverage in terms of population numbers or geographical area, in which Hutchison 3G is larger.
Analyst Ian Fogg at Forrester Research said the ruling was likely to be the first of many.
"There will be a debate about this," he told BBC News.
"It's much harder to measure or communicate how good an operator's 3G network is than it would be for home broadband.
"Network coverage can vary based on signal strength and whether it works indoors, but performance works on the number of people using a network as well."
That is more likely to be "unpredictable" for a mobile network, he said.
ASA Chief Executive Guy Parker told BBC Radio 4's You and Yours programme that it now intends to investigate the terms under which packages can claim to offer "unlimited" data downloads
"The market has evolved quite a lot in the last few years particularly with the popularity of mobile broadband. We think it's a good time to have a look at that policy, see if it's fit for purpose," he said.
Kevin Russell at Three said he regretted using the term "unlimited" to describe data packages as it was not "the reality of the market place".
"One of the dumbest things I've done is talk about 'unlimited' data when it's not," he said.