NI Policing Board vetoes armed civilians plan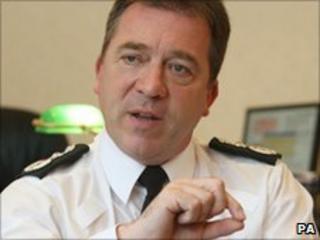 A proposal to use armed civilian guards to protect potential terrorist targets has been vetoed by the Northern Ireland Policing Board.
Chief Constable Matt Baggott had told the Policing Board he could save £5m per year by using civilians.
Mr Baggott said if the proposal did not get support, he would have to recruit an extra 400 officers to do the job.
However, at a Policing Board meeting on Thursday, a majority of members agreed not to support the proposal.
A Policing Board spokesperson said: "Members of the Northern Ireland Policing Board today received a briefing from PSNI on a proposal to introduce armed civilian guards.
"Following discussion members agreed, by majority view, not to support the proposal."
Mr Baggott had said the civilian guards would be under the command of the PSNI and be subject to the Police Ombudsman.
The proposal was rejected at a private meeting of the board, with seven board members voting in favour, but eight against.
It is understood the plan has now been abandoned.
The recruitment of new police officers has also been abandoned - but on a temporary basis.
The PSNI has also suspended the recruitment of civilian staff, and frozen internal promotions.
The decisions will be reviewed in the autumn when the police will know details of the budget cuts they are expected to make as part of government cutbacks.